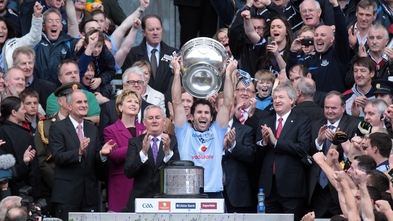 It only happened a few hours ago, but I've just watched it again. I'll watch it many more times.
I've waited sixteen years for it, so I'm going to make the most of it.
In the most dramatic of circumstances, Dublin banished sixteen years of failure and won the All-Ireland Gaelic football final.
I was one of the lucky ones in that I had a ticket, but circumstance intervened and I couldn't travel to the game.I was lucky enough to be able to see the game at home- the rest of Stockholm was equally lucky in that it didn't have to witness the madness in my front room.
Others weren't so lucky. All through the game I was getting messages from all over the world, asking for a stream so that people could see the game on the internet.
All over the world, owners of Irish pubs abroad battled with a moral dilemma- to show the showpiece of Gaelic games, or to show the soccer matches from England and Scotland that draw the crowds and keep their businesses in the black.
I called last week for the GAA and its broadcasting partners to get together and stream the game free around the world; it didn't happen, but if the will is there hopefully this will be the last year when Irish people around the world are denied the chance to be part of something so indescribably huge.
For despite the sometimes bitter rivalry between the capital and the rest, what is often forgotten is that a victory for Dublin's Gaelic footballers or hurlers is a victory for everyone in the country.
Gaelic games in Dublin are built on the efforts of people from every corner of every county who give so much to the games and the Dublin clubs.
Most of those who will celebrate into the wee small hours in the Burlington Hotel have a mother or a father from beyond the Pale; all will have been coached or mentored by folk from the country.
And every single person in Croke Park today will know someone who has left our country to try to build a better life for themselves.
Dublin's victory today made the world a little smaller; the GAA has a chance to make it smaller still by going back to the drawing board and making the games available free of charge over the internet to ex-patriates.
Because the Dubs showed today that this is so much more than just a game.
This is who we are.